Review: Old Carolina Barbeque Company
December 16, 2013 05:44PM, Published by Stefanie Valentic, Categories: Today, Eat+Drink+Shop
---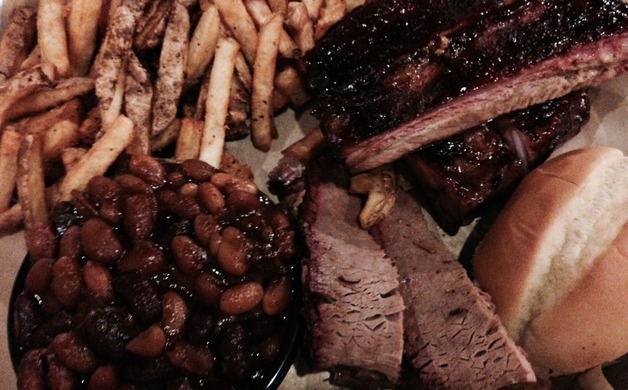 The Texas
---
Gallery: Old Carolina Barbeque Company [6 Images] Click any image to expand.
---
---
   It's odd to write about a barbeque restaurant in mid-December, but it's even more unusual to find decent ribs in a chain-like setting.
Old Carolina Barbeque Company, 9110 Mentor Ave. in Mentor, falls into the ever-burgeoning "fast-casual" restaurant category along with places such as Chipotle which means better quality and with that, higher-priced meal options. The local chain opened its first location in 2003 in the Akron-Canton area and currently serves Northeast Ohio with eight locations.
When you walk in, the smoky smell of barbeque hits you. The décor is simple, trendy and gets the Southern-style message across.
One of the advantages of the fast-casual dining experience is the fast-food ordering style. The only menu is on left side of the wall near the cash registers, which I imagine could cause a problem if there was a long line. However, we had no issues choosing from it.
Old Carolina's menu offers a few different meats such as ribs, pulled pork, brisket, chicken and more and accoutrements such as hush puppies, 4-cheese mac and cheese and baked beans but condenses it into combo and other meal options which significantly aids in the selection process. The husband and I both opted for combos at $14.99 each. Portions are not small by any means— combos include four ribs plus one other meat, two sides and a roll. So, if you're looking to try a little bit of everything, this is the way to go.
Our choices were The Carolina (ribs and pulled pork, two sides: 4-cheese Mac-n-Cheese, vinegar-based coleslaw) and The Texas (ribs and briskets, two sides: fries and baked beans).
First, the sauces. Our personal favorites were the Screaming Beaver, which is spicy, tangy and "sneaks up on you", according to the Old Carolina website and the Original. I recommend trying each of the five to see which you prefer as each has its own unique flavor.
The ribs were tender, fall-off-the-bone and meaty. I could add a few more clichés, but you get the point. The ribs are a must-order at Old Carolina. We were both able to peel the meat off the bone. In addition, the ribs could be eaten with our without the addition of a sauce- a huge plus in my book.
The pulled pork was moist and delicious as well, but its shortcoming was the lack of spices. I'm a firm believer that flavorful meat shouldn't have to be covered with sauce to be good. It was not flavorless at all, but the variety of barbeque sauces provided were sufficient to give the pulled pork that extra kick it needed.
The brisket was the least favorite of the meats we had on our plates. It was dry, flavorless and still left something to be desired even after adding sauce.
Among the sides we had, the baked beans were quite possibly the best baked beans I've tried at a Northeast Ohio restaurant. They were a perfect complement to a classic barbeque meal, with a touch of sweet and tangy. The coleslaw was also tops during my experience. Old Carolina also offers a creamy slaw for those of you who are fans. The fresh-cut fries paired perfectly with the spiced vinegar provided on the tables and were crispy and not overly salted. The least memorable of the sides was the 4-cheese Mac-n-Cheese.  While it was just ok, but I don't think I would order it again.
Overall, Old Carolina is solid barbeque served fast. From the exceptional and uncommon (for a fast-casual chain) table service to the myriad of sauces, this is the closest you'll find to an authentic southern barbeque experience in Lake County, Ohio. 

Atmosphere:
9/10

Cleanliness:
10/10
Notes: The staff cleans off tables immediately after a party leaves, leading us to our next score.

Service:
10/10
Notes: The staff seemed genuinely happy to work there, were attentive and helpful.  The table service sets this apart from other fast-casual restaurants.

Taste:
8/10
Notes: Mac and cheese was just nothing special. Brisket was dry.
What did you think of Old Carolina? Leave your review here:
Old Carolina Barbeque Company - Mentor, OH
---
This review is also on Urbanspoon.
---
---
bbq mentor pork ribs old carolina
---
You might also like
Local hair stylist judges in World Food Championships.
Born On Barbecue: Authentic Pulled Pork
[caption id="attachment_5316" align="alignleft" width="224" caption="Jack Gee writes about his favorite barbeque recipes."][/caption] My name is Jack.  I am proprietor of North Coast BBQ Smokers in Willoughby.  You may have seen me this past summer with my red Stump's Smoker at the Willoughby Outdoor Market.  Through this article on Willoughby Today, I intend to share with you the recipes, tips, and tricks of not only authentic barbecue, but other cooking styles as well.
Chloe, a black and white, 8-year-old, 7 lb, female cat has been missing from Mentor for about 2 months.
---